We have lots of jalapenos this year. We've made a bunch of different recipes but now we have more than we can eat so I'm going to try a new recipe. I'll be following these guidelines from the web; http://tastykitchen.com/blog/2011/09/candied-jalapenos-cowboy-candy/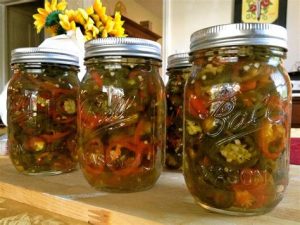 Ingredients:
3lbs jalapeno peppers.
2 cups cider vinegar
6 cups white granulated sugar
1/2 teaspoon turmeric
1/2 teaspoon celery seed
3 teaspoons granulated garlic
1 teaspoon ground cayenne pepper
Results to come….